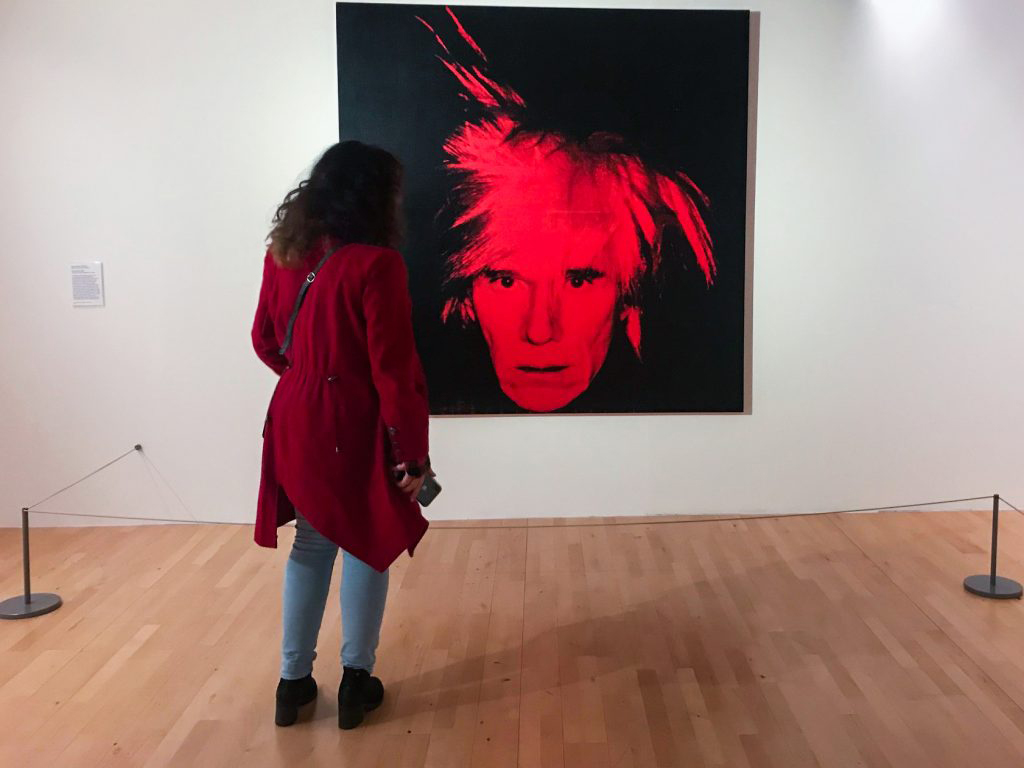 12 Nov

in search of pop art part for inspiration

A beautiful November Sunday was a walk around Liverpool.

We visited the Tate Modern Art Gallery.

Tate Liverpool was created to display work from the Tate Collection which comprises the national collection of British art from the year 1500 to the present day, and international modern art. The gallery also has a programme of temporary exhibitions. Until 2003, Tate Liverpool was the largest gallery of modern and contemporary art in the UK outside London.

Pictured above (left) Andy Warhol Self Portrait, Opart Exhibiton (centre) and Keith Haring Exhibition. (right)

Andy Warhol, Self-Portrait, 1986.

Throughout his life, Warhol played up his unusual looks and pale complexion to startling effect. His last self-portraits, made in the year before his death, draw particular attention to his exaggerated wig. Warhol understood the importance of image in contemporary life, and established himself in the public eye as the most famous Pop artist. His public persona was as much a construct as his paintings, and over the years he created numerous self-portraits in a variety of guises. 'If you want to know all about Andy Warhol, just look at the surface: of my paintings and films and me, and there I am', he famously said. 'There's nothing behind it.'

Gallery label, February 2011

Op Art in Focus

Op art – short for optical art – emerged in the 1960s. Its leading figures included Bridget Riley, Jesus Rafael Soto and Victor Vasarely. They combined lines, geometric shapes and eye popping colour to create artworks that fool the eye. Images could be subtle or disorientating, giving the illusion of movement. The display moves beyond the typical period of op art and includes works by more contemporary artists such as Angela Bulloch. Included is a rare installation of Jim Lambie's Zobop which floods the gallery floor with psychedelic patterning. Op art in Focus -displays of the Tat collection dedicated to significant modern and contemporary artists or movements.

source: tate.org.uk

.
Keith Haring
A part of the legendary New York art scene of the 1980s, Keith Haring (1958–1990) was inspired by graffiti, pop art and underground club culture.
Haring was a great collaborator and worked with like-minded artists such as Andy Warhol and Jean-Michel Basquiat. All were interested in creating art for the many. Haring designed record covers for RUN DMC and David Bowie, directed a music video for Grace Jones and developed a fashion line with Malcolm McLaren and Vivienne Westwood. In doing so, he introduced his art and ideas to as many people as possible.
source:tate.org.uk