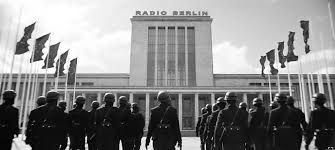 04 Mar

RAMMSTEIN – reality observer-ARD 416
The music video for the song "Radio" by the band Rammstein script contains many intriguing references to European culture. In all this there were controversial elements such as naked female busts and the red flag of the European Union. The clip for "Radio" is a black and white production except for the last scene, visually strongly referring to German film expressionism. The director is Jörn Heitmann. Costumes and stage design suggest that the "action" was set in the first half of the 20th century. The film contains scenes of street riots, client mutilation in a hair salon, and elements of nudity. It is also worth noting that there are also shots referring to the famous painting by Eugène Delacroix "Freedom leading the people to the barricades", a woman in a flimsy robe with an exposed torso decorated with inscriptions in German and with a banner in her hand.
Aesthetically, you can see references to German expressionism. The clip is to emphasize that the radio as a mass media had a great impact on society. This is emphasized by scenes from a radio factory, where employees pick up the ready radio in a gesture of triumph, shots of a woman breastfeeding a small radio taken out of a baby stroller, as well as a young woman sexually stimulating a radio receiver in her bedroom or people storming a store with this equipment. This message was sealed by a film travesty of the aforementioned Delacroix picture with the German version of Marianna leading the people to the street barricades.
Counterweight shows how state authorities are trying to control the radio. From here, shots of marching units of uniformed soldiers straight to the building of Radio Berlin or a policeman wearing a Prussian helmet taking a woman on the street.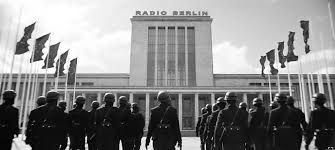 Rammstein wanted to show that despite the strenuous efforts of the authorities, the media and people, it is impossible to control. Therefore, when the uniforms run into the room where the band plays their song, they cannot sleep, because the musicians are holograms.
The last sequence in which the colour was introduced is also telling. Then it turns out that the European Union flags standing in front of the radio building are not blue, but red. Yes, the team may suggest that the union's attempts to control freedom of speech, e.g. on the internet, dangerously resemble the practices of the Soviet Union or the Third Reich. Quite ironic in this light, however, is the fact that commenting has been turned off on the YouTube video.